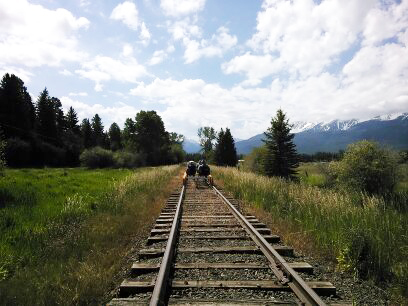 Vance Creek Railriders is a new business in Shelton, Washington.  It is an extension of the Joseph Branch and Oregon Coast Railriders of Oregon. Kim and Anita Metlen developed the unique vehicle that rides the rails of the historic Joseph Branch Railway over the winter of 2013-2014 and began offering rides in May 2014. Response from passengers has been terrific. Here is a quote from a recent rider:
You can check Best Laptop For Drawing and Best Laptop For Graphic Design And Multimedia that you can buy from amazon. laptops for graphic designing It can share files from mobile toPC or any further device. It also provisions cross-platform I.e., Android and iOS xender apk download
"We really enjoyed meeting you both, and we got such a huge kick out of the Joseph Branch Railriders excursion.  What a fun way to see the countryside, and what fun it was to chat with you about all things cycling too…." Emily & Mark Fagan (see their Road Less Traveled blog about their Railriders adventure.)
Now Doug and Cynthia Newman have joined the adventure and are operating the new 14 mile round trip from Camp 1 to Shelton, Washington. Be sure to join them for some fun times on the rails.
Railrides are available Thursday, Friday, Saturday and Sunday, departing at 9 a.m., Noon and 3 p.m. Purchase your tickets on the Vance Creek Railriders website.
The crash of Showbox for iPad will surely affect the reputation and also users may search for the alternatives for online streaming apps. Showbox for Windows For Android/iOS. Play Box HD applications is another alternative for Showbox applications for android, iPhone, and iPad users.
Watch this page for news about the Vance Creek Railriders.
Happy Pedaling!